Chelsea manager Mauricio Pochettino has defended the club's medical team amid a lengthy injury list at the club.
The Blues were without 12 senior squad players for the goalless draw with Bournemouth last time out.
Some of them could return when Chelsea host Aston Villa on Sunday but a number of key players remain sidelined.
"It's the profile of the player, the risk of the player. It's not the people working in the medical staff of performance area," said Pochettino.
"I think we need to respect these areas [at the club] are very good professionals, qualified people. That's why they are working in football. But there's an individual risk to [certain] players, you need to assess.
"Then there's bad luck. We have injures that maybe happen in one season or maybe in two, but have happened [to Chelsea] because of different situations you cannot control."
France forward Christopher Nkunku is set to be out until at least December with a knee injury suffered against Borussia Dortmund during pre-season, while centre-back Wesley Fofana is recovering following anterior cruciate ligament surgery.
Club captain Reece James, fellow defender Trevoh Chalobah plus midfielders Romeo Lavia and Carney Chukwuemeka are also sidelined, among others.
"Christopher against Dortmund, it was a tackle and he twists his knee. Three or four months out. That is from the beginning of the game, he wasn't tired, he was fresh, good, strong," added Pochettino.
"The organisation in football are super professional and we need to respect that. Sometimes things happen like this and it's difficult to evaluate."
However, Pochettino said Chelsea "took advantage" of not being in Europe this week as they used the break to work on kick-starting their season.
The Blues failed to qualify for Europe for just the second time in 26 years after their 12th-place finish in the Premier League last season.
They have won just one of their first five games this campaign to sit 14th.
"The circumstances have given us time to work and we've had a really good week," said Pochettino.
"It has been good to recover players from the international break.
"It's a time that, of course, for the fans is difficult because they are used to being in Europe but we need to take advantage of the situation."
Pochettino said the fans were entitled to express their dissatisfaction after some jeered the team after their goalless draw at Bournemouth last weekend, although he did not share their frustrations because he is satisfied with the team's underlying performances.
"I believe that the fans will be behind us. It's normal that when you don't win they are disappointed and show their feelings. They won't be happy after a draw at Bournemouth," said the former Tottenham boss.
"Fans always want to win and I'm sure they will support us. The players need their support.
"I am not frustrated because I think the team is performing well and missing many key players. I am disappointed because I think many teams with less score more. That is why we feel bad. The players deserve more."
Pochettino speaks to Jackson about bookings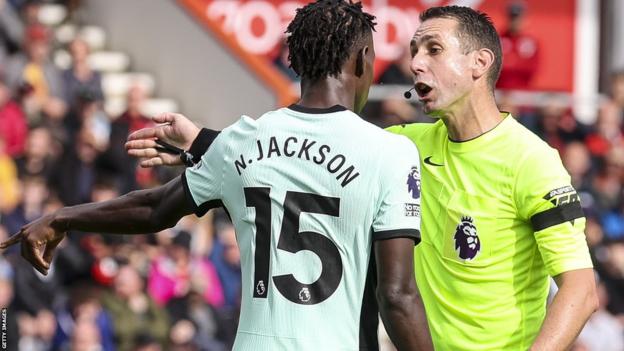 Pochettino also said he has spoken to the Blues' Senegal striker Nicolas Jackson about his behaviour towards referees.
Thy 22-year-old summer signing from Villarreal is already one yellow card away from suspension after being booked for dissent in four of his first five Premier League games.
"We had a meeting with him and also Enzo [Fernandez]," said Pochettino. "A striker, four yellow cards only for talking with the referee. It is so cheap and it is going to bring a difficult situation to the team.
"He understood. Jackson is young, he is going to be a fantastic player. He needs to be calm and relaxed.
"We are talking about young players, you can blame me or blame us but they need time.
"He needs to be clever and not protest to the referees."